MAXON CRUMB
Reading the Cosmic Wheel
First fine art limited edition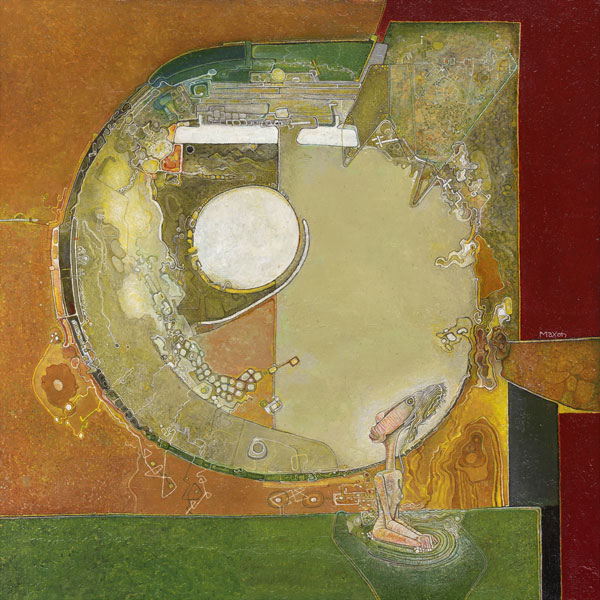 Because demand for Maxon's paintings exceeds their ready availability Word•Play is pleased to present his first in a series of museum quality color works. All the subtle nuance and powerful texture of Maxon's oil-on-canvas are meticulously recorded in Reading the Cosmic Wheel, an archival pigment print based on Maxon's brilliant 2007 painting.
Like the eternal circle within it, this stunning work embraces Maxon's unique concept of nature, intellect and spirituality. As the peaceful seeker in the picture knows, the more you study Reading the Cosmic Wheel the more you discover. Islands of velvet black, moss green and Manzanita-bark red flow to energetic swirls, pools of delicate color and intricate tracings of line that guide your soaring thoughts back again.
"...truly magnificent!" - Robert Crumb on Maxon's Reading the Cosmic Wheel giclee.
"Maxon's Reading the Cosmic Wheel art print is 10x more stunning in person! Gave me goosebumps! I am having it custom framed by a serious fine art/conservation framer - should have it back in a couple weeks and I will send you a pic."
‐ M.C., Boise, ID
The image measures 20" x 20" (51cm x 51 cm) on 24" x 24" (61cm x 61cm), 325 gram, 18-mil, 100% acid-free, smooth fine art paper. Limited to an edition of 60, each work is signed and numbered by Maxon Crumb. Shipped flat in sturdy box. $650.00 plus s&h.
Prices do not include shipping, insurance or applicable sales taxes. Mail a check?
About the Artist
Born in 1945, Maxon Crumb is the youngest brother of Charles (deceased) and Robert Crumb. Although Maxon has been drawing, painting, and writing for over 25 years (early work appeared in Weirdo, Liquidator, and his self-published Crumb's Brother's Magazine), it is only since the publication of Maxon's Poe (Word•Play, 1997) and HardCore Mother (CityZen Books, 2001) his first novel, that his artistry has been accessible to a wide audience.
From 1997 Maxon has earned his living solely through art sales, book royalties, and private commissions. Despite his busy schedule he still takes time to enjoy long walks in the country and explore his inner self. He still meditates a few hours a week on the streets of San Francisco.
Maxon's worldview is in his art. He is well versed in classic art and literature, as seen in his references to European masters and exotic images of Aztecan/Mayan architecture and sacrificial rituals. Suppressed sexual tension and curiosity are expressed in searching, sometimes graphically violent, compositions. Throughout his work runs a current of sophisticated, subliminal social commentary.
Maxon is a quiet genius; eccentric, perhaps, but practical aplenty (he's very computer savvy, for instance) to balance his creative gifts.
Our books section features Maxon Crumb: The Monograph; HardCore Mother, written and illustrated by Maxon Crumb; and HardCore Mother Drawings A to Z.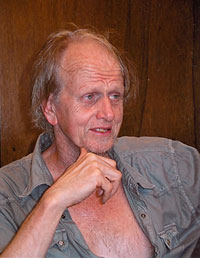 Maxon Crumb, 2007
photo © M.K. Whyte