by Malcolm Whyte
forward and notes by Robert Crumb

◆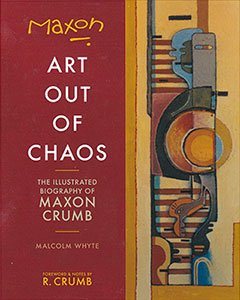 Maxon Crumb — artist, author, and yogi — embarked on a cross-country odyssey to conquer one severe challenge after another: a brutal childhood, crushing sibling rivalry, lost love, death threats, and debilitating disease.
Each absorbing chapter in MAXON: Art Out of Chaos recounts the agonizing steps Maxon took to succeed. In the process he restores frayed family ties while maturing into a fiercely independent innovator whose art and writings are as provocative and colorful as they are complex and imaginative.
Excerpts from Maxon's writings, anecdotes from his brother Robert Crumb, and a 50-page gallery of Maxon's stunning artworks (including his magnificent
Reading the Cosmic Wheel
) crown an inspiring story of a man who bares his magical world to us through ink, oil, metal, wood, and word.
$25.00 softcover
8" x 10", 140 pages, full color throughout
---
Reading the Cosmic Wheel
First fine art limited edition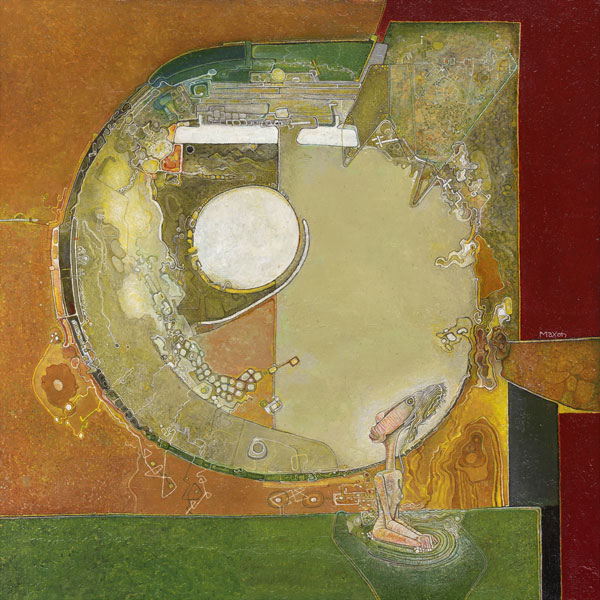 Because demand for Maxon's paintings exceeds their ready availability Word•Play is pleased to present his first in a series of museum quality color works. All the subtle nuance and powerful texture of Maxon's oil-on-canvas are meticulously recorded in
Reading the Cosmic Wheel
, an archival pigment print based on Maxon's brilliant 2007 painting.
Like the eternal circle within it, this stunning work embraces Maxon's unique concept of nature, intellect and spirituality. As the peaceful seeker in the picture knows, the more you study
Reading the Cosmic Wheel
the more you discover. Islands of velvet black, moss green and Manzanita-bark red flow to energetic swirls, pools of delicate color and intricate tracings of line that guide your soaring thoughts back again
The image measures 20" x 20" (51cm x 51 cm) on 24" x 24" (61cm x 61cm), 325 gram, 18-mil, 100% acid-free, smooth fine art paper. Limited to an edition of 60, each work is signed and numbered by Maxon Crumb. Shipped flat in sturdy box. $650.00 plus s&h.
---
More Limited Edition Books
by or about Maxon Crumb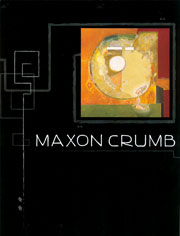 Maxon Crumb: The Monograph
Beautifully designed, the monograph gathers, from private collections around the country, thirty-two, full-page images of brilliant paintings and powerful black-and-white drawings that demonstrate Maxon's rich artistic range.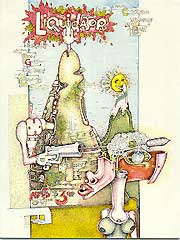 Liquidator Magazine
Liquidator Magazine
details a weird incident
Maxon Crumb
experienced in his residence hotel room on San Francisco's infamous Sixth Street.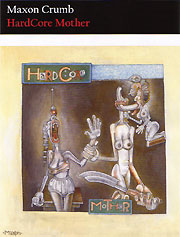 HardCore Mother
Maxon's Crumb's first novel - also illustrated by him - is available from Word•Play in three formats: quality paperback, hardcover, and numbered. The numbered edition is signed by Maxon and limited to 300 copies.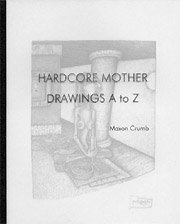 HardCore Mother Drawings A to Z
A limited edition volume of the pencil drawings
Maxon Crumb
drew on the title page of his
Hardcore Mother
hardcover lettered limited edition. Signed and numbered by the artist, less than half a dozen are still available for purchase.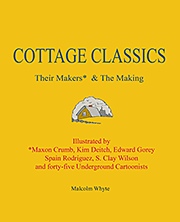 COTTAGE CLASSICS: Their Makers* & The Making
The personalities, the extraordinary art, and the creative processes of innovators in books tailor-made for their talents. llustrated by *
Maxon Crumb
,
Kim Deitch
,
Edward Gorey
,
Spain Rodriguez
,
S. Clay Wilson
(1941-2021) and forty-five Underground Cartoonists.