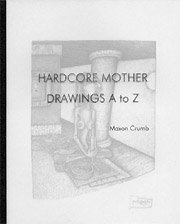 HardCore Mother Drawings A to Z
By Maxon Crumb
For the hardcover, slipcased, lettered edition of his first novel HardCore Mother, also illustrated by him, Maxon Crumb executed a unique pencil drawing in each of the 26 books. Word•Play Publications is proud to present the complete alphabetical series of these drawings in a very limited edition.
The complexity and imagination that Maxon put into these drawings forged some of the richest pencil work he has done to date. Each highly charged image took ten to twelve hours to render; some may serve as foundations for subsequent paintings.
HardCore Mother Drawings A to Z is printed by a copy method that captures the delicate nuances of his pencil line and tone. It also features a new pen and ink cover drawing and a thoughtful essay by Maxon on his process in creating these drawings -- and his art in general. The book is velo bound between simple, clear plastic front and back covers in a limited quantity of 45 copies signed and numbered by the artist: five copies reserved for Maxon and his publishers, and 40 copies only for sale at $150 each. Less than half a dozen remaining.
7" x 8 3/4", 30 pages.
Prices do not include shipping, insurance or applicable sales taxes. Mail a check?