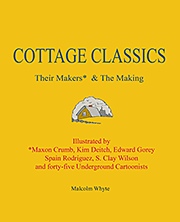 COTTAGE CLASSICS: Their Makers* & The Making
Illustrated by *Maxon Crumb, Kim Deitch, Edward Gorey, Spain Rodriguez, S. Clay Wilson and forty-five Underground Cartoonists
By Malcolm Whyte
"Did you ever want to draw a children's book?" I asked S. Clay Wilson.
"I always wanted to do a children's book!" the notorious ZAP Comix cartoonist exclaimed and took another mouthful of wine...
Thus began a conversation that sparked a unique publishing adventure starring some of the most fascinating artists of the twentieth century. Five Cottage Classics - Wilson's Andersen, Maxon's Poe, Wilson's Grimm, Alice's Adventures Under Ground, and Sherlock Holmes' Strangest Cases - and their two larger mates - The Underground Comix Family Album, and Goreyography - brought fresh viewpoints to timeless literature while broadening the legacy of Maxon Crumb, Kim Deitch, Edward Gorey, S. Clay Wilson, Spain Rodriguez, and scores to important underground cartoon pioneers.
With full color illustrations and in the artist's own words: COTTAGE CLASSICS: Their Makers & The Making spotlights the personalities, the extraordinary art, and the creative processes of these innovators in books tailor-made for their talents. Each chapter reveals the fine detail, and close collaboration between artist and publisher, necessary to design books that thrill the reader while expanding the creators' repertoire and opening their works to new audiences.
$35.00 paperbound edition
11" x 8.5", 120 pages, 75 color and black & white illustrations.
Prices do not include shipping, insurance or applicable sales taxes. Mail a check?