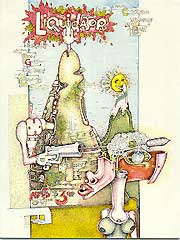 Rare, signed magazines by Maxon Crumb
Liquidator Magazine
Published in 1991, Liquidator contains one of Maxon's first stories. It's an autobiographical tale entitled "The Zen Outcaste's Sex Affaire", and it details a weird incident Maxon experienced in his residence hotel room on San Francisco's infamous Sixth Street. In addition, a self portrait accompanies the story as well as another drawing and the wonderfully complex full-color cover by Maxon.
$225, signed by Maxon on title page.
8" x 11", 35 pages + cover, b&w interior.
Prices do not include shipping, insurance or applicable sales taxes. Mail a check?