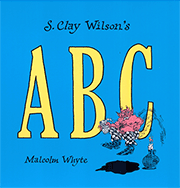 S. Clay Wilson's ABC
By Malcolm Whyte
Illustrated by S. Clay Wilson
S. Clay Wilson (1941-2021) illustrated two children's books: Wilson's Andersen and Wilson's Grimm - very unusual assignments for the notorious ZAP Comix artist. Their illustrations hold all the power of the meticulous dense-pack style for which his is renowned; they are beautiful, touching, horrific and hilarious despite the condition that Wilson show no exposed genitalia or slicing and dicing of body parts in them.
However, all restrictions were off for the unique drawings Wilson made in each of the 26 books of the lettered edition. Wilson's ABC reproduces these one-off embellishments and makes them available to the general public for the very first time.
The bulk of Wilson's Andersen's singular images - a lusty, technicolor circus of demons and demonettes, featuring, of course, the Checkered Demon himself - were captured before the books were sent out into the world. The entire alphabet for Wilson's Grimm is preserved here, too: full-page, alphabetic ink gems of Wilson's most unfettered work.
In all, Wilson's ABC presents forty-two fantastic, never-seen-before drawings annotated with insider clues and comments about them in a handsomely designed format - a rare, historic collection from a great graphic master! The limited signed edition of 100 copies (the last edition of Wilson's art he ever signed) is uniquely bound in rich teal-colored cloth with foil embossing in 4 elegant colors by the Key Printing and Binding, one of the top fine book presses on the West Coast.
Note: This book is not for elementary classroom use.
$29.95 paperback
$250.00 deluxe signed, numbered, limited edition*
7" x 7", 104 pages, 46 color and black & white illustrations.
Publication date: 5 December 2014
*a portion of sales income benefits the S. Clay Wilson Special Needs Trust
Prices do not include shipping, insurance or applicable sales taxes. Mail a check?